LEARN AS YOU GO
Back in early 2020, Ryan Baird landed into Rugby Players Ireland's offices and laid out his plan. "My goal is to play for Ireland this summer," he said. "I need to make sure I have everything covered off."
Sometimes you take the enunciation of lofty goals with a pinch of salt but such was Baird's conviction that it was hard not to sit up and take notice.
There was no denying Baird's undoubted talent. Injuries aside, he had enjoyed some underage success with Ireland in 2019 and the Leinster academy were making positive noises. Yet his eyeing up of a seat on the Irish tour to Australia seemed markedly optimistic.
As it turns out, he wasn't far off.
While the pandemic ultimately put paid to anyone's plans that summer, Baird was called into Andy Farrell's squad at the next available opportunity. Injury conspired to hamper his involvement in the remaining fixtures of that year but a few months later Baird earned his first cap as a substitute in Rome.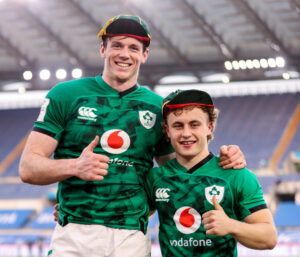 "I am hyper focused," he reveals. "When I go into training I'm always looking, analysing, preparing. Johnny [Sexton] spoke with us at the start of the season and he basically told us we have to be obsessive about all we do at work to right the wrongs of the previous season.
"Then I completely switch off when I get the chance because you can't remain up there all the time, otherwise you'll run out of juice. You go up and then come back down to recharge or do whatever it is you need to do."
Baird's keen self-awareness hasn't always been thus. Growing up he was plagued by doubt and says that it is only in recent years that he has started to think, question and understand. In so doing he also begun to reframe his journey and appreciate that, all things considered, he is a good guy who happens to be a fine rugby player.
"I'm getting to know myself very well," he says. "Three years ago I don't think I would have had such a deep understanding. I don't think every 23-year-old has to think like I do but when you are in a high-performance environment you have to grow up quicker than maybe if you were in college.
"There's a lot at stake in this game. There's a pressure to perform for your teammates. A pressure to perform for the fans. It's a business at the end of the day so you need to win to ensure you'll get paid and keep everything afloat."
Though part and parcel for a professional sportsperson, it remains a big burden for anyone of his age to bear. What's more, Baird is also a Sport Scholarship student at Trinity College where he is studying business and computer science. It's a fine balance to maintain yet such is Baird's attentiveness that very little, if anything, passes him by.
"Like, I could tell you every pair of shoes that the lads wear!" he admits. "It's weird and was my downfall for a while because I'd notice things like conversations too. I'd see the coaches talking and I'd assume that they were talking about me. I would completely fabricate something in my head and end up taking it very personally.
"Then I read a book called The Four Agreements. I had heard Aaron Rodgers (quarterback, New York Jets) talk about how it transformed his life. It had four lessons that I keep referring back to: Be Impeccable with Your Word; Don't Take Anything Personally; Don't Make Assumptions; Always Do Your Best.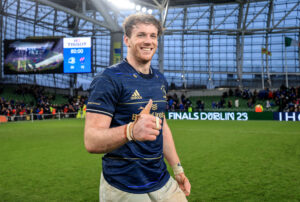 "I go back to that book from time to time because it isn't hard to slip back into the old habit of taking things personally. It's human nature. A big thing for me was selection. I'd go in of a Monday and Leo [Cullen] would tell me I'm not playing at the weekend.
"I remember coming back from injury before the Champions Cup quarter final [against Leicester] in 2022. I felt I had been awesome in training but then I wasn't even named on the bench. It completely screwed with my mind for the rest of the week. I was an absolute mess. I let Leo's opinion and words affect me.
"So now every Sunday heading into a game week I think to myself: 'it doesn't matter what Leo says to me tomorrow, I'm going to train to be a better player. A better version of myself.'"
It's a mentality that has reaped rewards this year. Baird played a key role in Ireland's recent Six Nations campaign and now finds himself in a prestigious Grand Slam club in a Rugby World Cup year. The Dubliner's stock is poised to rise further still.
With his growing profile also comes added responsibility of course, but Baird has always worn the mantel of role model well. He is supportive of several initiatives including Family Carers Ireland and FoodCloud, a not-for-profit social enterprise working to tackle the twin issues of food waste and food security.
For some players, acknowledgement that they occupy a position of significance in the Irish sporting and social landscape often comes late in the day. However, from his early days as a promising rugby player Baird recognised the positive change he could make both on and off the field, just as some of the biggest role models in sport had taught him.
"I watched a lot of tennis with my brothers growing up. I used to love watching Rafael Nadal play. I loved the way you could never count him out. He just dug in and dug in. Sometimes at training I'd be thinking what someone like Tom Brady would do here? What would Kobe [Bryant] do?
"There's a great documentary on Netflix about the US basketball team at the Olympics. The team was struggling and Kobe was brought in to play. One Friday evening the team went on a night out and came back around 5am and what do they see? Kobe is in the lobby ready to go to the gym.
"They say Kobe only lived off four hours sleep and while I'd be a bit cynical about that stuff, I think the mindset behind it is very true. As an elite athlete you have to ask yourself: is there something more I could do here? If you feel you haven't done enough, you probably haven't. I think that also applies to life in general.
"I would be very inquisitive and I'm very fortunate that I'm in a position where I can meet people and use the time I have outside of work to research and look into things and ways I can move forward and help others to do the same."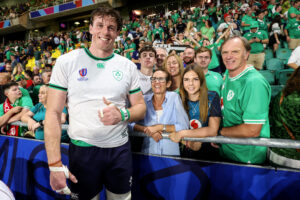 While the world might seem to be at Baird's feet, it took him a while to find them. Like most, he too had his challenges growing up. At times he felt like he didn't fit in other than on the sports field. His experiences have therefore led to his involvement in the Tackle Your Feelings Schools programme, with the Irish international set to play a strategic role in the campaign's development.
"Growing up I never really had a close friendship. My mom would always say that just a few minutes after school finished I'd be back on the couch at home and watching TV. It was only much later on and as I played more rugby that I developed better friendships because I was hanging out more often with them, out on the pitch.
"I guess it gives me a huge appreciation for the friendships I have now because not everyone has that. It's one thing my mom always drilled into me: be nice to other people. If you see someone on their own or not quite fitting in, make them feel comfortable. Bring them into your conversation. You were in their shoes once."
Laden with medals and accolades, rugby has clearly been good to Baird. Though he won't be making any assumptions, it's conceivable that given the players who will surround him for years to come, more success lies in wait. Yet even he would concede that the game's greatest gift has been in how it has empowered a young man who hasn't always found things so easy.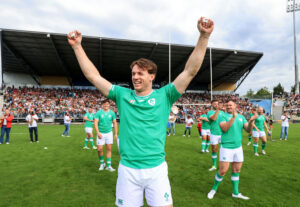 "Have you heard of the sunk cast fallacy?" he asks. "It's this idea that when you've dedicated a lot of time to something you feel obligated to stay in it. You feel guilty for walking away from it. I think that if you're not enjoying something and it's not bringing some level of happiness into your life then you really have to question it. A lot of people get stuck in that hole.
"I'm hugely fortunate for all rugby has given me. I love watching it. I love the freedom it gives me. Sometimes I close my eyes and visualise myself running out the tunnel and I still get goosebumps. I love standing there for the anthems and seeing people really going for it in the stands. I enjoy it and as a result I put my heart and soul into it.
"That's not to say you don't have any bad days. Regardless of the outcome, there is always an experience to learn from and I wouldn't change anything about how I got here because those experiences make you who you are today.
"I still ruminate in my head about loads of stuff too so I'm still learning as I go. Figuring things out. Nobody ever gets to 100% and I don't expect to either, but I like to think I'm maybe 5% better than who I was before.
"I'm trying my best, and that's all you can ask for."