CJ STANDER URGES PEOPLE TO SUPPORT EACH OTHER DURING LOCKDOWN
Ireland & Munster Rugby Player and Tackle Your Feelings ambassador, CJ Stander is encouraging people to rally around their loved ones and support one another, especially as we must now stay at home once again, due to the COVID-19 global pandemic. First launched by Rugby Players Ireland  in 2016 and funded by Zurich & the Z Zurich Foundation, Tackle Your Feelings today announces the Tackle Your Feelings Pro add-on as part of the #ImTakingControl campaign which encourages people to 'Take Control' of their mental wellbeing using principles from both sport and positive psychology.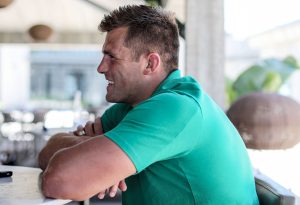 TYF (Tackle Your Feelings) Pro is an add-on to the existing Tackle Your Feelings App and has been designed specifically for members of Rugby Players Ireland. Through TYF Pro, Players will be able to access sections that cover resources unique to the rugby playing environment: injury, transition and managing life in a high-performance arena are included as well as the existing TYF resources to help maintain their positive mental wellbeing. TYF Pro aims to support the RPI player development programme by pooling a multitude of resources in one easily accessible place and provides information on contacting both internal (to RPI) and external resources for additional advice and information.
Player wellbeing is hugely important to Rugby Players Ireland and recent research carried out by the University of Limerick and administered by RPI as part of a wider survey into Irish athlete's mental wellbeing during Covid-19 revealed:
70% of our respondents had good or very good wellbeing scores
Most players received support from friends and family, teammates and managers
Emotional intelligence was higher than the team sports norm
Those surveyed coped with the period through physical exercise, self-distraction and humour
Almost 90% found this period moderately stressful
The TYF app encourages people to be proactive about their mental wellbeing, with the research revealing that less than half the people on the island of Ireland (48%) don't actively manage their mental wellbeing as part of their daily routine. Users can choose the Tackle Your Feelings resources they feel they need at the time. The app and website also feature sections on Relationships, Confidence, Happiness/Sadness, Sleep, Self-Care, Resilience, Anger, Relaxation, Optimism & Self-Awareness. It also has a mindfulness section where users can select from several mindfulness exercises.
Commenting on the #ImtakingControl campaign, Ireland and Munster Rugby Player & Tackle Your Feelings ambassador CJ Stander said: "It's great to be training and playing rugby again after such a long time without it.  I understand that rugby players are the lucky ones. I'm hoping that my story will help people as they try to cope with the next few weeks of lockdown. It is important, not just for rugby players, but for everyone to rally around each other during this frustrating and troubling time. When I first moved to Ireland, my wife, coaches, teammates and local community made the transition so much easier. Talking to loved ones and friends, even on the phone, about how you're feeling can make them more aware of what you're going through and, ultimately, that can only be helpful."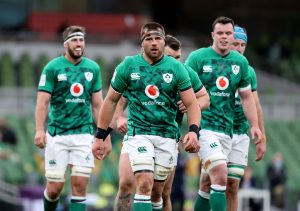 Anthony Brennan, CEO, Zurich Ireland said: "We at Zurich are delighted with the addition of the TYF Pro add-on to the already proven Tackle Your Feelings resource. With the uncertainty around life continuing as we head towards Christmas, maintaining and improving our mental wellbeing is more important than ever. We believe CJ's story of how he 'takes control' will not only encourage players to be more proactive when it comes to minding their own mental health and wellbeing but will also inspire the general Irish public to take control and make a difference."
Tackle Your Feelings, Campaign Manager, RPI, Hannah McCormack, said: "It is great to see our members back up and running, albeit in rather strange circumstances. While rugby players are the lucky ones to be back in work, most did find the period without rugby moderately stressful, it is important to understand that our members are not immune to feeling this way and can adopt negative coping mechanisms just like anyone else. The vast majority of our members do  utilise the support they receive from Rugby Players Ireland, friends, family, teammates and managers as well as positive coping strategies and we hope CJ's story along with the TYF Pro add on will encourage more of our members to do the same." 
Tackle Your Feelings is an innovative and unique approach to breaking down stigma around emotional wellbeing. Built on a foundation of diversity and inclusion, the campaign encompasses the whole island of Ireland and features some of Ireland's most loved rugby players leading from the front, opening up about their own mental wellbeing challenges and the strategies they used to overcome them, so that people of Ireland can follow their lead.
Since its launch in 2016, Tackle Your Feelings has impacted the lives of people all over the world, with campaign content being viewed in excess of 23 million times. TYF has motivated people to be more proactive when it comes to looking after their mental wellbeing and has increased awareness around the importance of taking care of your mental health. TYF has also reached international audiences and has inspired similar campaigns across the globe, including; The English Rugby Players' Association (RPA), 'Lift the Weight' campaign, New Zealand Rugby's 'HeadFirst' campaign and Tackle Your Feelings Australia, a collaboration between Zurich Australia, the AFLPA and AFLCA.
For more information on Tackle Your Feelings follow the Instagram account @tyf
"It's very important to have a good support structure around you as a person and as a player."@CJStander is taking control with #TackleYourFeelings 👊#ImTakingControl pic.twitter.com/8PedBZsgyK

— RugbyPlayersIreland (@RugbyPlayersIRE) November 3, 2020